We're not in Kansas anymore, Toto.
As someone – now a 40 something woman – once a baby who was born into feminism, and who later rejected it, there's plenty about the dogma I find troubling. But I think it's feminism's scare-mongering and moralising about sex (usually heterosex) via narratives of men's sexual violence against women – and girls – that gets me the most. And, though the two may not seem intrinsically  linked at first, discussions of 'internet trolls' seem to be yet another way that feminist women are able to demonise and criminalise men, those dirty dogs. Bear with me.
Today, Chris Grayling the UK Justice Secretary, has vowed to quadruple the maximum prison sentence for convicted 'trolls'. This statement, which actually relates to an amendment to the Communications Act via the Criminal_Justice_and_Courts_Bill proposed back in March this year, and confirmed in July, seems to be timed carefully. It also neatly illustrates  the  link between feminist preoccupations with rape/male violence and wider discourses around 'trolls'.
Grayling promised 'tougher sentences' (under the communications act) against 'internet trolls' after Chloe Madeley received rape threats on twitter. The 27 year old daughter of iconic TV couple Richard and Judy, seemed to be suffering a backlash after her Mum had waded into the Ched Evans  rape case clusterfuck. Evans, a professional footballer, has just been released from prison following a conviction for rape in 2012. Judy Finnegan added her tuppence worth by saying she thought the alleged assault by Evans wasn't as bad as some rapes because among other reasons no 'bodily harm' was suffered by the alleged victim.  I use the term 'alleged' as the case is ongoing. Dad Richard is baying for blood and threatening the 'trolls' who threatened his daughter with prosecution.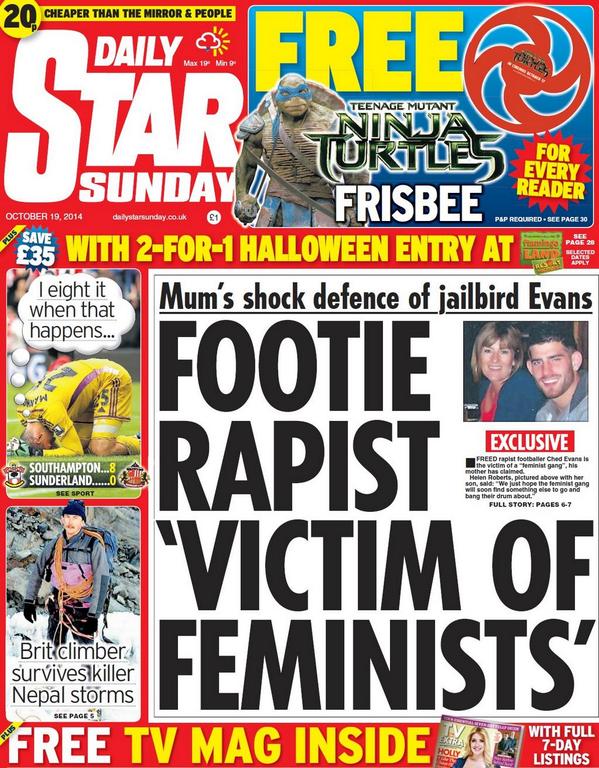 Meanwhile, at least 150,000 people have signed a petition calling for Sheffield Utd to refuse-to-reinstate-ched-evans-as-a-player.  Feminists and their detractors online and in the media have been at logger heads over the career prospects of this one man. It all seems a bit over the top. But 'celebrity' cases often serve as prisms through which we look at wider issues in society. The Ched Evans case is refracting a lot of heat and light. I think even whilst the storm (in a football boot) rages on there are some reflections and questions worth considering.
The first issue that concerns me is what was the motivation for increasing the maximum sentence for 'malicious communications' from 6 months (it was a summary offence) to two years? Angie Bray, the Conservative MP who proposed the amendment made her inspiration for doing so clear. She said:
'My interest was first aroused by a visit to my surgery in Ealing by constituents who were desperately trying to understand why justice had failed to be done for their young daughter, who had been receiving wholly unwanted explicit sexual text messages from the husband of the mothers' best friend. Such was the kick that he apparently got from sending those messages to her that he sometimes sent 30 a day.
That went on for a year or so. The young girl did not tell anyone, because she knew he was married to her mum's friend, and did not want to upset anyone. She carried that torment on her young shoulders alone. Finally, the school got in touch with the parents to find out why their daughter's work was going rapidly downhill. Was there a problem they could discuss? What was wrong with her? My constituents asked their daughter, but she said nothing was wrong.'
Bray goes on to explain how attempts to prosecute the man defendant (who she says was 42 when the girl receiving the texts was 13-14) failed. In part she blames this on the communications act making the crime of 'malicious communications' a summary offence, meaning a) the maximum sentence is 6 months in prison and b) the maximum amount of time between crime and criminal charges is also six months. Extend the sentence and you also extend how much time can pass between the two.
The case that got Angie Bray's attention fits with what we could call a contemporary moral panic over child abuse in particular and sexual violence by men against women and girls in general. Its not that I don't feel empathy for the girl she mentions. But it worries me that clumsy criminal law is partly made on the back of panic, and of individuals' 'concern' for individual victims. It reminds me of the Extreme Porn Law (2008) which critics say came to be following the murder of a woman where her attacker was found to have looked at 'kinky' pornographic websites. In the case Bray cites, a prosecution partly failed because the girl involved did not tell anyone she was receiving the horrible text messages. I would suggest that the silence of abuse victims and their fears about speaking out about their ordeals will not be solved by increasing the maximum sentence for malicious communications. In fact,  I wonder how many 'grooming' communications will even be prosecuted under this law. As with the Extreme Porn Law, it is quite possible the souped up malicous communications legislation will do nothing to protect anyone, but will  limit people' s freedom of expression. Have we already forgotten the Twitter_Joke_Trial? In fact part of the 'moral panic' could be around the use of new technologies themselves
So who will be prosecuted/punished by the new improved 'anti troll' legislation? I can't help but believe that when it comes to 'trolling', there are 'deserving' and 'undeserving' victims. Just as in Victorian times (not to mention now) there were the deserving and underserving poor. Feminists are drawn to 'trolls' like bees to honey. Feminist professional troll hunters such as Helen Lewis are forever painting a picture of poor innocent feminist women damsels attacked by marauding armies of men online. High profile cases using the communications act to prosecute online expression have involved 'deserving victims' such as feminist campaigner and g****ite Caroline Criado-Perez and feminist MP and g****ite Stella Creasy.  It's becoming a self-fulfilling prophecy. 'Trolling' is presented as an example of 'misogyny' and feminist women who trade on these concepts will be most likely to mobilise the law, thus justifying its existence with prosecutions of 'misogynist' trolls to refer to.
All's fair in love and retribution. But the feminists are not always standing shoulder to shoulder with their 'sisters' and fellow victims of 'online abuse'. On the day when Chloe Madeley was reported to have received rape threats online, after defending her Mum for uttering a non-feminist-accepted viewpoint about a high-profile rape case, chief rape threat avenger Caroline Criado-Perez was conveniently unavailable to comment:
It is common knowledge that UK prisons are practically full. And, that they are full of men, not to mention including disproportionate numbers of working class men (many of whom are black men). I find it hard, sitting under my troll bridge, to see these current cacophonies about tougher sentences for 'trolls' and associated hysteria about rape, rape threats, rape apologism etc etc as attempts by precious middle class white women to put even more of that same demographic behind bars.